September 9, 2015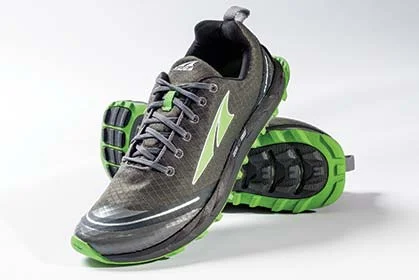 The Dirt: Our testers raved about the updates to the Superior, which added a much-improved tread and a new synthetic upper to the cushioned, zero-drop midsole and comfy natural fit that they liked about the earlier iterations. The sticky-rubber outsole grips slick surfaces far better than the previous model. The lugs are aggressive enough to dig into soft ground and prevent slippage on steep climbs, but not so pronounced as to be obtrusive on hardpack. The no-sew, paper-thin upper keeps out most debris, though tends to trap water after creek crossings.
Despite minimal overlays on the upper, the Superior 2.0 offers a surprisingly secure ride—"The shoe almost magically held my foot securely in place," gushed one initially skeptical tester—which allows for agility on technical descents, loose terrain and tight corners. As one tester wryly noted, this latest model from Altra is "truly Superior."
Best For: "Mixed-bag" terrain with a little bit of everything, from mud and snow to hardpack; up to marathon distance, or longer for runners accustomed to zero-drop shoes.
Fit: Wide in the toebox and secure around the midfoot. Some may find that the heel slips a bit. Runs about a half-size short.
Tester Raves
"The Superior is perfect when you don't know what you're up against. Technical, wet, mud, etc., you can trust this shoe to perform well."
—Lauren Arnold, Polson, MT
"I have always thought Altra shoes to be very comfortable but not necessarily fast. Not anymore. The Superior 2.0 feels like a racing flat for the trails, but still has enough cushion to be an everyday trainer."
—Brad Williams, Golden, CO
"A nice balance between minimalist and protective trail-running shoes. They're flexible, but offer enough cushion to prevent bruising the feet on sharp rocks."
—Ben Luedke, Seattle, WA
Testers on Fit
"The wide toe box that allows natural toe splay is incredibly comfortable, and increases your ability to feel the trail and use your toes to grip and push off. There are no overlays, but the shoe almost magically held my foot securely in place."
—Jason A. Miller, Austin, TX
"There aren't any rigid or constrictive elements to the shoes. Right out of the box, they feel like bedroom slippers, but with grip. No breaking in needed whatsoever."
—Ben Luedke, Seattle, WA
"This shoe runs really small, at least a half size. As long as you account for that, you can dial in the fit just fine."
—Brad Williams, Golden, CO
Testers on Tread
"Running hard downhill on steep, technical trails, this shoe really hugs the corners. It climbs great, too; the rubber bites into the trails for no wasted energy on the way up."
—Brad Williams, Golden, CO
"You don't feel like you're wearing monster trucks, yet the grip is there. Lugs that angle toward your heel help prevent slipping while pushing off your forefoot, and the spacing of the lugs helps prevent mud packing."
—Lauren Arnold, Polson, MT
"A more aggressive outsole, coupled with a sticky-rubber compound, improves traction and confidence on all terrain. Outsole rubber has been an issue with previous Superiors: it was too hard, and was very slick on wet surfaces. This is a vast improvement."
—Lou Brenner, Polson, MT
"The tread is grippy enough to instill confidence on wet and sloppy sections—I was able to run down muddy, twisting singletrack while maintaining my purchase—but not so aggressive as to make running on hardpack or asphalt uncomfortable."
—Ben Luedke, Seattle, WA
Testers on Downsides
"The laces are thin and not durable, and frayed easily after a short bushwack."
—Lou Brenner, Polson, MT
"The Superior 2.0 collects and holds water. Fifteen minutes after standing in a stream, my shoes were still quite wet and sloshy. The upper material is not porous, and just doesn't let the water out."
—Ben Luedke, Seattle, WA
"The tongue isn't attached to the upper on the sides, and dirt and pebbles got in easily as a result."
—Ben Luedke, Seattle, WA