March 20, 2017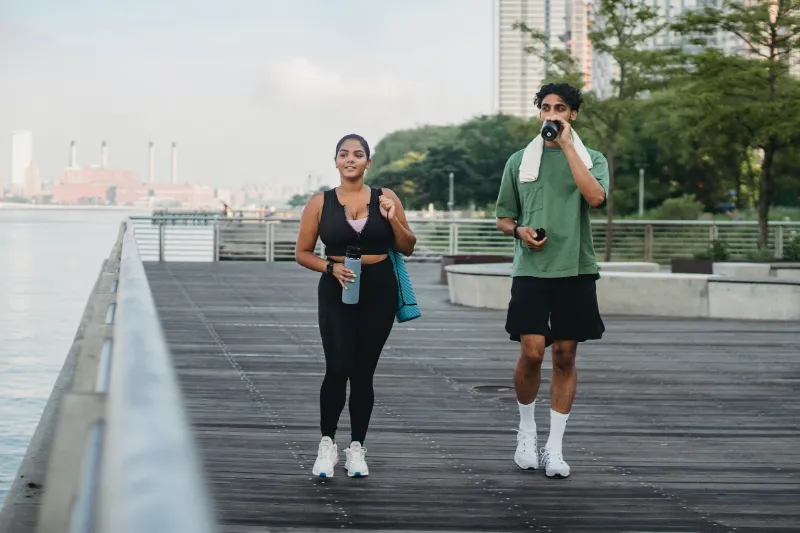 Since the weather is nice ,you may be going back outside to walk. But don't take your walking routine lightly. While walking is a simple and effective exercise, it can put you at risk for falls and other injuries. As a result, physical and environmental dangers may turn a walk outside into a trip to the hospital, sabotaging your good intentions to stay healthy. Consider the following hazards and fixes before you start walking.
Hazard: Gait and stability problems
Causes: Back, hip, knee, ankle, or foot pain; muscle weakness; imbalance from neurological conditions such as Parkinson's disease; dizziness from inner ear conditions; vision problems; or a combination of these.
Risk: All of the above issues may cause falls, especially on an uneven pavement or ground. Falling can result in fractures and permanent disability.
Fix: Get an evaluation from your doctor and seek appropriate treatment. Correcting the problem may be as simple as a six-week course of physical therapy or an updated eyeglasses prescription. Once outside, avoid walking on sidewalks with uneven or broken pavement. Also: "Make sure you wear a good pair of walking shoes or sneakers," says Elissa Huber-Anderson, a physical therapist at Harvard-affiliated Massachusetts General Hospital. "And don't forget your sunglasses. Vision plays an important part in balance, as glare can make it difficult to see oncoming traffic or changes in pavement." If you're walking on park trails, consider using hiking or trekking poles for stability.
Hazard: Hearing impairment
Causes: Age-related hearing loss, tumors, abnormal bone growth, earwax buildup, or nerve cell damage from exposure to loud noise.
Risk: Hearing loss from any cause will keep you from detecting important sounds on city and neighborhood streets, such as oncoming traffic, bicycles, warning sirens, alarms, or even assailants. That increases your risk of getting hurt.
Fix: Get an examination from your primary care doctor or an ear, nose, and throat (ENT) specialist. "If the cause is earwax buildup, it can be removed in the doctors' office. If you have hearing loss, you'll need to see an audiologist for hearing testing to determine the type and severity of loss. You may then be a candidate for hearing aids," says Dr. Steven Rauch, an ENT at Harvard-affiliated Massachusetts Eye and Ear Infirmary.
Hazard: Distractions from electronics
Causes: Looking down at a health tracker, texting, wearing headphones.
Risk: Distractions may prevent you from seeing or hearing potential dangers. "No matter where you are, being aware of your environment is important to staying safe. If your awareness of auditory cues is reduced, you will be more dependent on visual cues, and vice versa," says Dr. Rauch.
Fix: When listening to music, use only one earbud or place your headphones to leave one ear uncovered, so you can still hear noises in your walking environment. If you must look down, like at a smartphone, stop walking for a moment, then resume when you've finished. If you spend more than a minute looking down, take a moment to note your surroundings.
Hazard: Vulnerability
Cause: Walking alone or walking without a way to call for help.
Risk: If you fall or suffer a heart attack when walking alone, the outcome could be even worse if you're unable to call for assistance. Also, being alone may make you a target for attackers who prey on older adults.
Fix: Walk with a friend on a familiar route, or at least walk where there are others around. Carry a mobile phone or an alert button to contact emergency responders. "You never want to find yourself unwell and unable to make it back home, or worse, having fallen with no way to contact emergency services," says Huber-Anderson.
http://www.health.harvard.edu/staying-healthy/danger-proof-your-walking-routine